PayPal is a leading online payment and transactions payment processor that's been around since 1998. Today, it's the world's second most popular payment processor.
E-commerce has become a booming industry and only expected to continue growing. Small businesses that only rely on physical payments or card transactions are switching to online payment methods to increase business.
Services like PayPal won't only make receiving money easier for your business but will also help you expand your business to global consumers.
Setting up an account on PayPal takes just a few minutes. But once you've set up your business account, navigating your way towards sending payment requests and receiving payment can seem confusing. PayPal also charges transaction fees for business accounts, as well as when you're receiving money from a person from another country.
Setting Up a PayPal Account so You Can Receive Money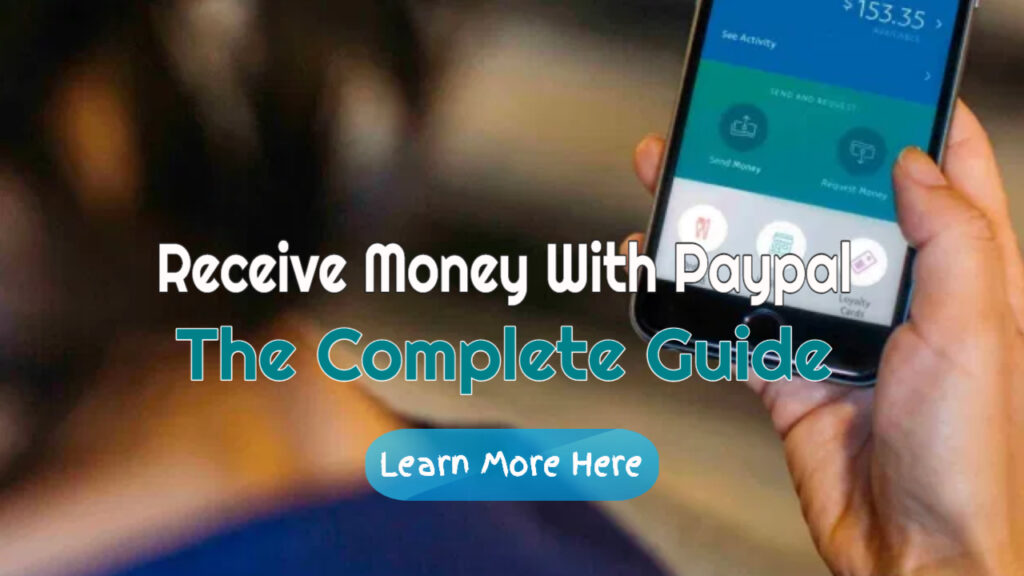 There are a few payment methods through which you can make transactions on PayPal. These include:
PayPal Checkout
PayPal Subscriptions
QR Codes
PayPal Buttons
With PayPal, you can also create invoices. You can create a single-use invoice for one transaction. You can also create a recurring or subscription-based invoice. This allows you to receive money on PayPal regularly without the need to generate new invoices every time. After receiving money on PayPal, you can see the new amount reflect in your PayPal balance.
Finally, you can also create an estimate based invoices. These invoices can be customized as per the needs of your business. Say your small business offers a service where you may need to change the amount in your invoice at a later date, such as if the customer needs more work done, etc. This is where the 'estimated' invoice can help you.
If you run a small business on eBay, then receiving money on PayPal will be useful to you. Instead of providing personal details of your business or asking your customers to do the same, an email address is all you need.
To start sending invoices and receiving money on PayPal, you first need to create a PayPal account. As a small business, you'll need to create a Business PayPal account. A Business PayPal account caters to anyone that offers goods and services in return for payment on PayPal. This also applies to freelancers.
When you set up a Business PayPal account, this will operate slightly differently from a Personal PayPal Account. Money sent and received through Personal PayPal accounts doesn't incur transaction fees. These can only be sent to friends and family members.
A Business PayPal Account does incur transaction fees, and these depend on the kind of business you own, the location of your customer, the kind of currency being used, and other factors. PayPal fees can also change depending on whether you're sending or receiving money using a credit card or a debit card.
In the US, a Business PayPal account is charged a flat fee of 2.9%+$0.30 per transaction.
Your Business PayPal account allows you to receive money on PayPal, and this money is then stored in a digital wallet, your PayPal balance. You can withdraw this money and deposit it from your PayPal balance and deposit the sum into your bank account. This process takes between 2–3 business days.
To set up a Business PayPal account, you'll need to provide basic details about your business, such as your business email address and email. Someone you're sending an invoice to should also have a PayPal account. To send an invoice, you'll need to provide their email address as well.
Then they can send money to you by clicking on the link. Someone who is receiving the invoice can then open the link, view the invoice, and send you money on PayPal immediately.
You'll also receive a notification when someone has sent you money on PayPal. The new balance will reflect in your digital wallet's balance after the money has been deposited.
After you've registered your Business PayPal account, you can log in and start sending and receiving money on PayPal.
How to Generate an Invoice and Receive Money on PayPal
This is everything you need to know about how you can send money requests and receive money on PayPal:
Log in to your PayPal Account. Look for the icon that says 'PayPal Balance'. On the right side of this icon, you'll notice another icon that says 'Request'. Click on this icon.
Another option available to you is to click on the 'Send and Request' icon located on the top of your PayPal account page. When you do this, a menu will be visible to you.
On the menu, click on the 'Request' icon.
On the right side of the page, you'll see an option that allows you to create an invoice. You'll also see a PayPal.me link on the right side menu.
Someone can use these to send you money or create a money pool on PayPal.
Once the Request link has opened, you'll see various fields that need to be entered. These fields include the recipient's email address, the amount of money the recipient should send.
On the first screen, you'll be asked to enter the recipient's email address. After this, click 'Next'.
Next, you'll need to add the amount and the currency.
On this screen, you can also add a customized message.
Then, double-check all the information to make sure that it's accurate. Once you've confirmed the details, click on the 'Request Now' icon.
This will send an invoice to your customer's email address. There, they can click on the link provided to them in the email to send you money on PayPal.
Receiving Money on PayPal With a Business PayPal Account
A Business PayPal Account provides you with a few more options than a personal account. While a Personal PayPal Account restricts sending and receiving the money to friends and family, a Business PayPal Account is more versatile.
Unlike with a Personal PayPal Account, you can create various kinds of invoices with a business account. If you run a business where your customer is expected to send you money on a monthly basis, then the recurring payment option becomes useful.
Instead of manually creating new invoices every month, you can use the recurring or subscription invoice option to let PayPal do the work for you automatically. This saves time, energy, and overhead costs by freeing up your accounts department.
You can also use the 'PayPal Checkout' option if you run an e-commerce website. To check and see whether your customers have sent you money on PayPal, you can track progress on the 'Summary' page in your PayPal account.
Receiving money on PayPal is easy, but the money will be available in your digital wallet. You can link your bank account to your digital wallet. This allows the amount to be transferred to your bank account when you're ready to draw money out of your digital wallet.
Receiving money through PayPal can also be done in retail locations. Just send the invoice to your buyers once they're ready to make a purchase. Buyers will receive a notification at their email address. Then customers can send you money on PayPal immediately by clicking on the send money link in the invoice.
Convenient Alternatives to PayPal
PayPal is a leading payment processor, but it's one among many great options. Having multiple payment methods enabled for your invoices or payment requests will reduce friction at the moment of paying or checkout and increase the chances of you being paid on time.
This is where Hiveage's multiple payment gateway integrations come in handy. You can sign up for popular and easy-to-use payment services like Stripe or Square, and enable them alongside PayPal in Hiveage. Your customers can choose which payment method they want to use when paying you.
We also have a separate convenient solution that allows you to receive money on PayPal, Stripe or Square without even having to send invoices. With our payment links app Paylinks, you can simply generate payment requests that can be shared through any medium (such as email, social media or messaging apps). You can also generate QR codes with Paylinks that your customers can quickly scan and pay in person: a handy alternative to Point-of-Sales systems.
Thus, with just one app, you can accept online payments from multiple payment processors, including PayPal. After you receive money on PayPal, you can transfer it to the checking account you've linked.
Send professional looking invoices with Hiveage, or just send payment requests with Paylinks, and receive money without worrying about complicated processes using PayPal!
The Article Receive Money With PayPal — The Complete Guide first found on https://www.vesess.com/
The post Receive Money With PayPal – The Complete Guide appeared first on https://limitsofstrategy.com