The National Construction Code In Australia 2022

As a Brisbane Building Certifier, there are a lot of changes that are going to call for many home and building plans to be amended and construction budgets adjusted.
This is a breakdown of how Brisbane and Queensland are going to be impacted as each state will still have state and local council guidelines.
The NCC will make significant changes to include provisions for accessible housing for new homes and units.
Accessible housing provisions aim to ensure that new homes are easy to enter, easy to navigate in and around, easy and inexpensive to adapt to and meet the changing needs of residents.
While the proposals are not yet final, we know that they envisage significant changes. Master Builders continues to work through the details of the requirements, pushing to ensure they are practical and affordable.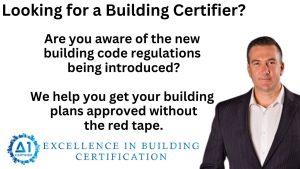 The changes are scheduled to come into effect on 1 October 2023.
As currently drafted, the proposed provisions include
    Step-free path from the property line or car park.

    An exemption is available where there is no suitable location to provide a compliant path.

    If the step-free path is across the car park, the car park must be at least 3200 mm wide and 5400 mm long.

    Pedestal (1200 mm x 1200 mm) at the entrance.

    Step-free threshold (a step ramp up to 56 mm high is permitted).
 Weather protection and protection from termites will be a challenge.
 We will wait for the government to clarify these issues before the final approval of the ordinance.
    Entrance door with a clear opening of 820 mm (usually with a door leaf of 870 mm).

    Interior doors on the entrance level have a clear opening of 820 mm and level thresholds (up to 56 mm step ramp)

    Corridors are 1000 mm wide at ground (or entrance) level.

    Ensure that the distance is measured between the finished walls and not between the frames, as is common in the industry.

    Toilet with a minimum distance of 1200 mm in front of the bowl (without door swing) at ground (or entrance) level.

    If the toilet is in a separate room, the distance between the walls must also be at least 900 mm.

    Bathroom builders, the centre of the toilet must be between 450 mm and 460 mm from the wall, sink or washbasin.

    It may also need to be adjacent to a wall, but the regulations are currently contradictory.

    Hobless and step-free shower
It is important that builders carefully manage the waterproofing risk that this requirement brings.
Reinforced walls in the accessible shower and toilet area.

Reinforced with 12 mm thick plywood, 25 mm thick timber battens or light steel frame battens.
Bushfire protection –
Protection from bushfires for vulnerable occupants of buildings such as nursing homes is also addressed.
The proposed changes stem from the findings of the Victorian Bushfires Royal Commission in 2009.
It recommended the inclusion of bushfire protection provisions for certain non-residential buildings with vulnerable occupants in the NCC.
A new performance requirement, verification method and DTS are proposed to provide additional protection for buildings occupied by occupants whose evacuation is unsafe. However, compliance does not guarantee the safety of occupants, which is in line with the scope of AS 3959 Construction of Buildings in Bushfire Prone Areas.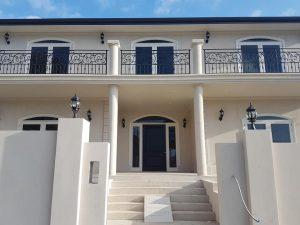 Energy Efficiency
Currently, NCC 2022 does not include energy efficiency and condensation changes as Building Ministers have not yet approved these. However, a preview of these changes is still expected before adoption. However, the draft NCC 2022 proposes extensive changes in energy efficiency.
The stars for Class 1 buildings will be increased from 6 to 7 stars. The changes for Class 2 buildings require the building to have an average of 7 stars, with no single dwelling unit having less than 6 stars. Meeting the new requirements will involve high costs and technical challenges. In addition, ceiling fan installation will likely be required in all habitable rooms in Queensland.
As for the Queensland Development Code, which currently allows reduced star ratings and credits for ceiling fans and solar panels, the Queensland Department of Energy and Public Works has not confirmed that it intends to assist the industry in avoiding unnecessary changes and cost increases.
It also proposes the introduction of a Whole of House Assessment, a new requirement alongside energy efficiency.
This will introduce a collective energy consumption budget for air conditioning, hot water systems, lighting, swimming pool, and spa pumps.
This approach allows trading between equipment efficiency to achieve the energy consumption budget but is not used to offset building fabric requirements.
Master Builders continues to work with the government to create a Queensland-specific code that can reduce the impact of the proposed energy efficiency requirements.
Master Builders is seeking a 3-year transition period to introduce these requirements.
Lead in plumbing products
Lead is used to manufacture plumbing products such as taps, mixers and drinking water supply equipment.

The exact lead content of products varies depending on the component, with some products that come into contact with drinking water containing up to 6% lead as a proportion of the raw material.
The amendments require all new copper alloy plumbing products in contact with drinking water to have a weighted average lead content of no more than 0.25%, with the following options:
Option 1: A test report prepared by an accredited testing laboratory in accordance with NSF/ANSI 372 "Drinking Water System Components – Lead Content".
Option 2: A Water Mark licence, provided it includes compliance with NSF/ANSI 372.
As manufacturers will need some time to change the manufacturing process and re-test the products, the requirement will be introduced over a three-year transition period.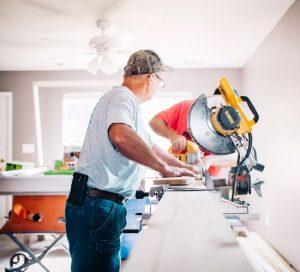 Waterproofing in NCC 2022
New waterproofing standard
From 1 May 2023, volumes 1 and 2 of NCC 2022 will refer to AS 3740: 2021 Water Proofing of Domestic Wet Areas.
What are the main changes?
    Waterproofing is required for the entire shower wall

    Changed surface finish slope requirements.

    Waterproofing must now be graded to the flange of the drain.

    You can waive the slope adjustment if you only use the NCC and not the new AS 3740:2021.

    All commercial wet areas must have graded waterproofing membranes and surface treatments up to the drain.
 And the bad news is that surface finishes in wet areas must be graded to every drain (i.e. every hole in the floor). The old interpretation that a trap for floor drains (usually in the middle of the floor in a wet area) is not a drain is now outdated due to the new NCC wording.
Waterproof shower walls
A new requirement is that all waterproof wall board in a shower area must be waterproof to a minimum height of 1800 mm above the finished floor or 50 mm above the shower enclosure, whichever is higher.
Floors in wet areas – slope
Where a floor drain is installed:
(a) the minimum continuous slope of a floor level to the drain shall be 1:80; and
(b) the maximum continuous slope of a floor plane to the drain shall be 1:50.
Membrane – Slope
A new requirement that where surface coverings (e.g. tiles) are required to drain to a floor drain, the waterproof membrane installed under these coverings must also have a slope
Do sloped membranes have to be installed in every wet area?
The slope requirements for waterproofing membranes may be handled differently in AS 3740 & NCC Volumes 1 & 2.
In Volume 2 for residential buildings, you can disregard AS 3740 altogether and apply the entire Section 10.2, which does not require graded waterproofing membranes for drainage. However, for commercial buildings and Band 1 units, there is no exemption to the requirements for graded membranes in all wet areas with drains.
The above is a summary and does not contain all the essential information.
Please get in touch with our team using the contact details below.
A1 Certifiers
Shop 11/2-20 Shore St W, Ormiston QLD 4160
(07) 3446 5832
The post Building Certifier And National Construction Code 2022 appeared first on https://typewriter-kl.com
The post Building Certifier And National Construction Code 2022 appeared first on https://gqcentral.co.uk