True-Life RVer Jobs
Thanks to RVs, and the constantly growing community falling in love with them, unchaining yourself from your 9-5 schedule is growing in popularity and accessibility. You'd be surprised at how many employers don't mind where you work from. Whatsmore, some jobs are even more successful with a changing backdrop.
Draft up your two weeks and take a look at these 10 awesome true-life full-time RVer jobs. The office view just got a lot more interesting.
1. Elopement Wedding Photographer
Documenting the most important day in a couple's relationship is an adventure all on its own, but doing so from the most beautiful locations in the country is a thrill you'll never stop chasing. It's also an honor you'll never forget since your job is to literally capture these epic moments on film. Meet and get to know all kinds of people as you share a significant role on their special day as an adventure elopement photographer.
Education Required: None. A course in photography is helpful, but many photographers are self-taught.
Best RVs for the Job: A pop-up RV or small camper are suitable for this professional endeavor. You'll want adequate security on your RV to protect your expensive camera gear.
Successful RVers on the Road: @thefoxes, @colbyandjess
2. Travel Nurse
Saving lives and making a difference isn't location-specific. Traveling nurses can take their skills and abilities on the road where they are needed the most in real-time. Following the work is arguably more rewarding than waiting for the work to come to you. Packing up and living in an RV gives you the freedom to travel from place to place, hospital to hospital, in order to have the biggest impact possible and help those in need.
Education Required: Travel nurses must be licensed as RNs with an undergraduate degree, typically with a BSN or an ADN.
Best RVs for the Job: A Class B or Class C RV is perfect for this career. Travel Trailers to provide a rolling home with all the comforts you need for contracts that last a few months at a time.
Successful RVers on the Road: @wereoutnabout, @we.the.wanderers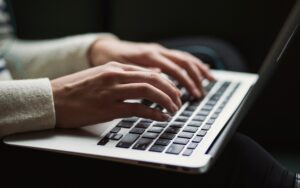 3. IT Tech
If you're someone who doesn't find the office hours a problem, just the office itself, then the world of a traveling IT Tech may be worth exploring. While the job may require you to pop into an office from time to time to troubleshoot on-site, most of the work can be done remotely from your RV. Just make sure you have a reliable internet connection.
Education Required: An associate or bachelor's degree in computer science, information technology, or a related field is beneficial.
Best RVs for the Job: Depending upon how far and how often you're traveling, anything from a travel trailer to a fifth wheel would be great.
Successful RVers on the Road: @laneslesstraveled Find out how the Lanes work a traditional 9-5 job while on the road.
4. Textile Artist
Mother Nature is known for her beauty, but what she doesn't get enough credit for is her inspiration. Textile artists are harnessing the breathtaking views of their travels and the elements of their surroundings to weave, sculpt, and create art that is unique. Take inspiration from your travels and surroundings and make it into something beautiful. Travel the country selling your wares at markets and festivals. Or operate your business entirely online, all out of your RV.
Education Required: None, specifically, although formal training in textile design or fine arts is encouraged.
Best RVs for the Job: A Class C or Toyhauler may be best suited for the artist lifestyle. Set up your artist studio in your toyhauler's garage.
Successful RVers on the Road: @elyse.delisle, @thestuffbus
5. Musician
In the words of Willie Nelson, "I can't wait to get on the road again." Chances are you feel the same way. Lucky for us, and for musicians, being on the road is music-friendly in both listening and creating capacities. In fact, many musicians travel for gigs and for inspiration. Many do so in an RV. It's the perfect blend of home and work in a way that is conducive to a happy life. Nothing is better than a great view and a perfect soundtrack. Create your own tour schedule by scheduling gigs in the cities you visit. Or busk your way around the country in cities and counties where street performance is legal.
Education Required: A formal education is not necessary, but talent definitely is.
Best RVs for the Job: A Class A RV, either gas or diesel, is a solid choice for living and creating. It boasts plenty of space for the comforts of home and the tools of the trade.
Successful RVers on the Road: @mtnsinthesea, @chiefwildcrew
6. Graphic Designer or Corporate Project Manager
If you're looking for a combination of creative and analytical, try your hand at being a graphic designer or a corporate project manager. The team of @Mavistheairstream have been juggling these jobs for the past few years as they roam in their remodeled airstream. Who says you must choose only the left or the right side of your brain when selecting a career?
Education Required: A bachelor's degree is commonly expected for both, but a high school diploma is required.
Best RVs for the Job: A fifth wheel or Class B RV is a nice option.
Successful RVers on the Road: @mavistheairstream, @crazyfamilyadventure
7. Writer, Blogger, Author
The best thing about words? They're fluid and entirely mobile making writing one of the best jobs for an RV enthusiast. Whether you're writing for a company as a hired employee or you're running your own freelance writing business or you're writing the next great American novel, the words can flow wherever you are. Take it one step further and look into blogging, either personally or for a company, and put your RV to work for you.
Education Required: A degree in English, communications, or even journalism is often looked for when hiring writers, but if your words are impressive enough, they'll often speak for themselves.
Best RVs for the Job: A pop-up RV or small camper is fun for writers chasing words off the grid.
Successful RVers on the Road: @rvlovetravel, @creativityrv
8. Audio Narrator or Podcast Host
Much like written words, spoken words aren't limited to an office setting or specific landscape. Soak in your surroundings as you travel then retreat inside your RV for a quiet moment to record your own podcast or an audiobook as a narrator.
Education Required: A background in audio engineering or production is helpful, but formal education isn't necessarily required.
Best RVs for the Job: A travel trailer or toy hauler helps keep traveling and workspaces defined and divided.
Successful RVers on the Road: @ourwanderingfamily, @rvmiles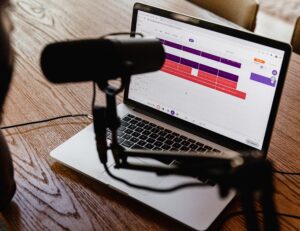 9. Social Media Influencer
In a world where our lives are documented by way of square images and online videos, why not employ your lifestyle? Turn your off-the-grid getaway into a paid opportunity by becoming a social media influencer. Whether you choose Instagram, TikTok, Facebook, Youtube, or all of the above, the options are endless when it comes to content creation. Develop a following and collaborate with brands and watch the road pave itself in front of you.
Education Required: Experience in marketing, advertising, and promotions is imperative.
Best RVs for the Job: Conquering the web in a Class B or Class C RV is definitely possible.
Successful RVers on the Road: @adventurtunityfamily, @summerginther
10. Online Teaching and Tutoring
In a post-Covid world, more than ever before, online teaching is in high demand. When we all turned to virtual classrooms, teachers and tutors found creative and effective ways to reach their students. It's not surprising that when a sense of normalcy returned, those new ways redefined the world of educating, for everyone. Now instructors can travel the country while still taking the time to teach their students along the way from the comfort of their RV or any location with reliable WiFi.
Education Required: A bachelor's degree in Education, at minimum.
Best RVs for the Job: Depending upon if you're traveling solo or with your family, either a fifth wheel RV or a Class A would suit your needs.
Successful RVers on the Road: @hudsonandemily, @tinyhomehailey
One of the most popular answers you hear when asking people what they wish they had more time for–traveling. So, if you're one of those people with that answer in the back of your head, then look no further than jobs where you earn while on the move. Your wish has been granted. Traveling and working can now go hand in hand. Clock out of the corporate cycle and clock into life on the road.
Article first published by campingworld: https://blog.campingworld.com/the-rv-life/10-awesome-true-life-rver-jobs/
---
The Article 10 Awesome True-Life RVer Jobs appeared first on https://preciousrv.com

The post 10 True-Life RVer Jobs – "out-of-the-office" lifestyle appeared first on https://gqcentral.co.uk